---
| | |
| --- | --- |
| How to choose the layout: A chaise or chaise lounge is the part of a sectional extended forward - "long chair", normally featuring no arm. It is attached to the sofa at ninety-degree angle and gives you ample space to stretch out and relax. When you are facing a sectional the chaise can be on the left or right side. The Orientation Layout option allows you to choose the position of the chaise that fits your space. | e.g. right facing chaise |
---

Update your living room decor with beautiful contemporary styled sectional in white padded Italian leather finish. Discover the Exclusive Home collection, you'll be fascinated by the unique design of this model, where we find a perfect balance of tradition and innovation, solidity and lightness, precision and extravagance. Not only sofas but also large ottoman, end table and pillows for the culture and the good life philosophy. This sofa is customizable! Many customizations are offered at no additional cost such as ordering with multiple colors and changing the orientation - as pictured or reverse. Please specify if you want to get custom color or position for this product.

It is more than just an ordinary sectional sofa, because it has everything you need! Extremely comfortable, well made and has such a stylish look. This item will be definitely best spot in your home. The armrest is low, featuring super modern design, making your lounging even more comfortable. To add, all couches are upholstered in premium quality genuine leather available in a variety of colors to choose from.

Leather should be cleaned often. Clean as required, or monthly. Clean gently along stitch seams and creases in the material, removing dust, stains and dirt. Clean leather should be cleaned with a mild soap and water solution (a mild soap will have a neutral pH so it is not harsh on your skin and therefore not harsh on the leather). For general cleaning, use a weak solution of soap; 3 – 4 drops of soap per liter of water. Use a slightly higher concentration to remove more excessive dirt. Always wipe off any residual soap solution from the leather with a clean, damp cloth. It is important that you do not saturate the leather. Always test the soap solution in an unseen area of the sofa to ensure the solution does not damage the leather.
Highlights:
Modern design, hand made collection
Designed for those who love to be different
Everything is made in Italy using European materials
Solid oak frame will last forever
Polished chrome legs
Special order takes eight to twelve weeks to arrive
Top grain genuine Italian leather all around
Shown in white and black, but can be ordered in different colors
Square footrest ottoman is available to complete the set
Set of natural goose down pillows in leather can be produced as well
End table in white lacquer is available for your drinks
Enjoy owning a decorative and functional piece that can fit in almost any space
Measurements:
Sofa dimensions (left): 71W x 41D x 36.5H in
Chaise dimensions (right): 42.5W x 67D x 36.5H in
Total dimensions (small): 113.5W x 67D x 36.5H in
Total dimensions (large): 125.2W x 67D x 36.5H in
Seat height: 17.3 in
Optional ottoman: 33W x 33D x 17.3H in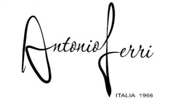 ..founded in 1955 by Mr. Ferri Rocco
Antonio Ferri collection in leather is manufactured at our Italian company with more than 50 years of history. In the States, these Italian sofas exclusively available at Prime Classic Design only. Our new furniture style in a contemporary design is addressed to consumers who care about quality and budget. High quality materials with a large range of products, the beauty and the softness of our leather together with high finishing stitching mastery are the strength of this new collection. We can ensure to our customers a firm and lasting product able to preserve intact its own characteristics over time. The wooden frames we use are in eco-friendly material, biodegradable and recyclable.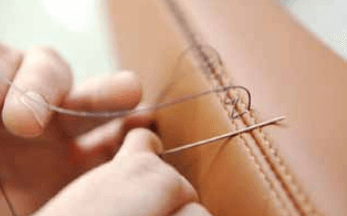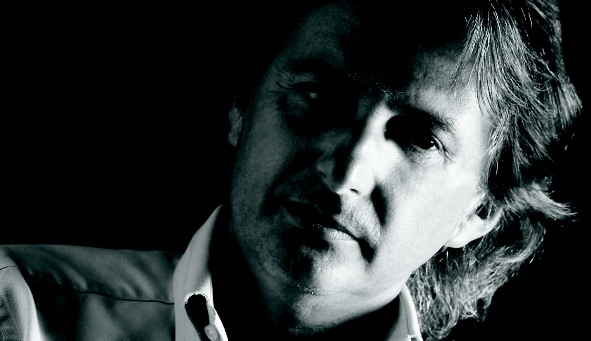 In the heart of the most elegant is born a new line of upholstery collection Antonio Ferri that reflects the philosophy of a handmade contemporary product and carried forward by three generation of specialized artisans since 1950s - all "made in Italy" tradition. The aesthetics of the sofas is filtered by light of soft colors with special leathers and fabrics of the highest qualities, with handmade decorations, hallmark of the Maison. The long-standing synergic cooperation between the architects Danilo Bonfanti and Granriele Moscatelli with qualified partner has given birth to numerous projects in the architecture and design sector.
This product is:

---
Quality Materials:

Our leather factories operate in compliance with the requirements set forth by the UNI EN ISO 9001:2008 standard, for design and production of finished leathers for high end furniture.
The foam, especially for the seat cushions and backrests, is the most important element for the achievement of an adequate comfort of our living room furniture. Our sofas are made of special foams developed in every aspect from the current generation products, born from the latest research to response for higher comfort and durability.
The inner structures of sofas and sectionals are made of ecologically certified solid wood - pine or oak. All sofas are made with hardwood frame and each corner assembly is glued, screwed and corner-blocked assembly required. The mechanisms for moving backs and seats are metal powder-coated and on the visible parts are chromed. All raw materials that are used for the realization of our sofas produced according to European standards: the leather, wood, foam and feather padding as well as the thread used for the seams are all certified.
---

Conceria Mastrotto Specialising in the production of a wide range of bovine leathers for the footwear, furnishings, clothing and leather goods industries, Conceria Mastrotto was the first company founded in the Group, and it now has over fifty years proud experience behind it.

Do I have to pay sales tax?

Since we have multiple location throughout the United States, the order could be shipped from the warehouse located in different state from your shipping address. This way Prime Classic Design Inc. can pass an additional 5-9% off to all the customers. Sales tax is only charged if furniture shipped outside the Contiguous 47 States or to California. International orders are subject to taxes and custom fees in the country in which items are delivered.
---
Overnice Italian Top Grain Leather Sectional Sofa

This product was added to our catalog on Friday 12 October, 2018.