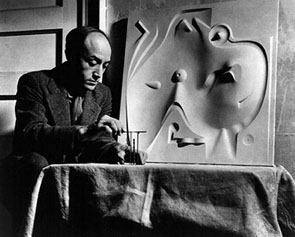 Isamu Noguchi was born in Los Angeles in 1904. His father was a Japanese poet who had gained great acclaim in the United States and his mother was an Irish-American teacher and editor. The name Isamu ("courage") was giving to him after they moved to Japan in March of 1907. Upon arrival in Japan, Isamu's parents split up and Isamu moved several times throughout Japan with his mother.
As a young man, Noguchi studied medicine at Columbia University, but eventually abandoned medicine to pursue painting and sculpture. Now considered one of the greatest sculptors of the 20th century, Noguchi also designed furniture and lamp designs for Herman Miller and Knoll. Among his furniture work was his collaboration with George Nelson, Paul Laszlo and Charles Eames to produce a catalog containing what is considered to be the most influential body of modern furniture.
During the 1980s, Noguchi created the Noguchi Museum in Long Island, New York, to exhibit his large and varied collection of work. Noguchi died in New York City in 1988. The Isamu Noguchi Foundation, Inc. is dedicated to maintaining and promoting the artistic legacy of designer and sculptor Isamu Noguchi.