these items may be purchased together as a set or separately (price may vary)
Natural wood contemporary Bedroom Set from Spain will look amazing in any modern designed bedroom. Composition offers not traditional items for your bedroom. Fancy Dresser and Tower with lights and base - different solution to make your bedroom exceptional and interesting. All Collections items feature natural wood color, modern design and high quality. Standard set offers Queen Size Bed with Wooden Headboard, Two Nightstands, Fancy Dresser with Full size Mirror. Optional items include King Size Bed, Queen or King Size Storage Platform Bed, Tower with Lights, 4-Drawers Dresser with Mirror, 6-Drawers Chest, 2-Doors Man's Chest and 3-Doors Wardrobe.
The Platform Bed features natural wood frame and base. Wide wooden bed's headboard designed with square elements and competes all set. Bed includes wooden spring. King Size Platform Bed is available at extra cost. Collection also offers Queen or King Size Storage platform Bed. Storage Bed will help you to store and organize your bedding and bedroom items.
The Nightstand features two drawers and simple straight lines. Two nightstands offer space to store your items.
Fancy Dresser designed with two spacious drawers, large shelf on the top of them and full size mirror with base on the side. Also next to the mirror you will find three little wooden shelves to display your items. Fancy Dresser will look amazing in your bedroom and will help you to organize and store your clothes and other items.
An interesting and perfect decision for not traditional bedroom - tower. Tower base sits next to the headboard or nightstand. Top shelf designed with three lights and base holds four glass shelves. You can display all beautiful items, souvenirs and pictures on glass shelves.
An optional Four Drawers Dresser designed with four spacious drawers and continues light wood color and simple straight lines of the set. The Mirror designed in wavy shape and offers two glass shelves on the side.
An Optional 6-Drawer Chest will give you more storage space for your items and clothes. The Chest continues simple shape of the set and offers six equal size drawers.
Man's Chest designed with two spacious drawers that give you plenty of space to store your clothes and huge additional space in the top section to hang your clothes covered by two doors.
An optional 3-Doors Wardrobe will give you even more storage space. It is designed with two doors sections on the sides and middle portion with door compartment on the top and five drawers under door.
All pieces of the set will give you a complete contemporary designed bedroom with plenty of storage space.
Highlights:
The Set consists of Queen size platform bed with wooden headboard, two nightstands and fancy dresser with mirror
Fancy dresser can have the mirror on the left, as shown, or right (please specify)
Contemporary design
An optional storage platform bed
Natural wood
Many optional case goods
Durable construction
Made in Spain
Measurements:
Queen Size Bed: 90.6" W x 87.6" D x 35.65" H
King Size Bed: 90.6 x 87.6 x 35.65
Queen Size Storage Platform Bed: 64 x 83 x 12.5
King Size Storage Platform Bed: 80 x 83 x 12.5
Nightstand: 23.75 x 15.95 x 18.7
4-Drawers Dresser: 54.10 x 15.95 x 44.45
Mirror with Shelves: 35.45 x 5.9 x 23.65
Fancy Dresser: 71.10 x 15.95 x 74.45
6-Drawers Chest: 23.75 x 16 x 49
2-Doors Man's Chest: 39 x 24 x 68
3-Doors Wardrobe: 59 x 22.5 x 85
Tower: 97.5 x 17.75 x 72.5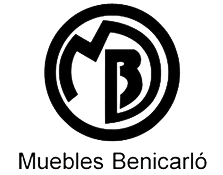 In Muebles Benicarlo we are committed to quality...
Muebles Benicarlo - more than 50 years experience manufacturing matrimony bedroom furniture over which time constant updates in the manufacturing process as well as technological upgrades have helped to meet the demands in each and every moment, never forgetting our commitment to our tradition of artisan workmanship.

Do you ship overseas?

Almost all of our products can be shipped anywhere in the world. We can ship via ocean freight and air freight, both of which have their advantages. If you live overseas and would like to place an order, please email us for a shipping rate quote or call us toll free at 1-800-691-8191.
---
Made in Spain Wood Platform Bedroom Set with Extra Storage

This product was added to our catalog on Saturday 28 January, 2017.