---
| | |
| --- | --- |
| How to choose the layout: A chaise or chaise lounge is the part of a sectional extended forward - "long chair", normally featuring no arm. It is attached to the sofa at ninety-degree angle and gives you ample space to stretch out and relax. When you are facing a sectional the chaise can be on the left or right side. The Orientation Layout option allows you to choose the position of the chaise that fits your space. | e.g. right facing chaise |
---

The sectional from luxury collection certainly matches it's namesake for quality and style. Our luxury and Italian contemporary and the line cosmopolitan, informal and modern. Clean Lines in perfect balance between design, elegance and comfort, features of a genetic code made in Italy which preserves the quality of manufacture and design. Its supple 2mm thick leather seating and unique European design make this the perfect sectional for any contemporary home. This sectional is only enhanced by it's beautiful chrome base and it's uniquely angled arm. It is accented by 3 adjustable pillows that just add to the comfort and magnificence of this sectional. If you want a sectional that will be durable, beautiful and keep it's beauty through the years, then you want this one in your home. The sectional is available in brown color or other common leathers and in two-way directions: left and right.

The back rests padded with foam filled exuberance ensure all-encompassing comfort, while the reinforced pliancy of each seat offers never ending cushioned support. The linear composition along with the break and bend resistant hardwood craftsmanship of this unexpected work of art presents a commanding virility that will leave you breathless with adoration, as the intricate padding conveys an essence of evocative grace, mesmerizing you with its vibrancy. Personalize this sectional with your desired color characteristics to complete your interior décor.

Leather furniture lasts longer than fabric-covered furniture—sometimes as much as three times as long. This is because it's meant to take abuse and wear and actually looks even better when it's worn in. You still must take care of leather upholstery by regularly cleaning and conditioning it. Use a hand vacuum with a soft brush accessory to pick up dust, crumbs and other debris. Be careful not to scratch or otherwise mar the leather with the vacuum, especially if you have full-grain or top-grain leather furniture. Remove dust by wiping the entire leather surface with a slightly damp cloth or duster.

Use all-natural soap free of sodium laurel sulfate—this type of chemical found in many soaps and detergents can dry out the leather. Always do a spot test somewhere inconspicuous when using anything besides water to be sure that it doesn't discolor or otherwise damage the leather. Distilled water is recommended when using moisture to clean leather.
Highlights:
Creates a striking presence with its straight lines
High quality soft top grain leather
Dark brown luxury Leather
Sweeping architectural lines can be seen on the sofas's continuous steel legs
Chrome metal base around both arms
Has a sculpted seat with fine details which give it timeless appeal
Three adjustable head pillows
Modern design, 100% hand made in Italy
Durable construction, Contain top-quality materials
Proudly certified by the 'Istituto Stituto
Adds sophistication to homes, lounges, lobbies and offices
Measurements:
Overall: 112" L x 86" W x 29" H
Total depth: 40"
Seat depth: 22"
Seat height: 17"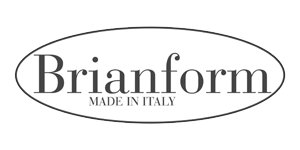 ..active in the manufacturing industry since 1984
The company Brianform holds a strong position among the leading Italian furniture manufacturers. Brianform specializes in the design and manufacture of upholstered furniture, particularly sofas and chairs, and all sorts of accessories that are made of leather, prepared at in-house technology. The quality of our products is always guaranteed by the extreme attention and constant monitoring of the whole production cycle; the woodwork, to the cutting of skins, to packaging. Each production phase is characterized by artisan processes that emphasize the attention to detail and finish. Brianform combines tradition and technology, craftsmanship and industrialization.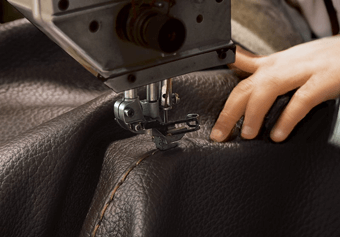 Brianform firm founded two decades ago in Revelance di Como, which is located in the North of Italy. Originally it was a small company, however, after the company issued a special relationship with France, which allowed to try out in this country their trading strategy, production began to grow rapidly. In 1995 started the production of exclusive collections, the mastermind and the actual Creator of many models of which became the famous Italian designer Luigi Ronzoni. This decision allowed the company Brianform pave the way to the world market of upholstered furniture.
This product is:

---
Quality Materials:

Our leather factories operate in compliance with the requirements set forth by the UNI EN ISO 9001:2008 standard, for design and production of finished leathers for high end furniture.
The foam, especially for the seat cushions and backrests, is the most important element for the achievement of an adequate comfort of our living room furniture. Our sofas are made of special foams developed in every aspect from the current generation products, born from the latest research to response for higher comfort and durability.
The inner structures of sofas and sectionals are made of ecologically certified solid wood - pine or oak. All sofas are made with hardwood frame and each corner assembly is glued, screwed and corner-blocked assembly required. The mechanisms for moving backs and seats are metal powder-coated and on the visible parts are chromed. All raw materials that are used for the realization of our sofas produced according to European standards: the leather, wood, foam and feather padding as well as the thread used for the seams are all certified.
---

Conceria Mastrotto Specialising in the production of a wide range of bovine leathers for the footwear, furnishings, clothing and leather goods industries, Conceria Mastrotto was the first company founded in the Group, and it now has over fifty years proud experience behind it.

How can I pay for my order?
We accept all major credit cards, Google Checkout, PayPal, official bank cheks and wire transfer. For orders made outside the United States, Prime Classic Design Inc. accepts PayPal and wire/bank transfers only. We do not accept international credit cards. For more information please call us toll free at 1-800-691-8191.


---
Premium Italian Quality Brown Leather Sectional

This product was added to our catalog on Sunday 30 September, 2018.